To celebrate our commitment to the environment, one of our designers at OFS' Blue House Studio, Ashley Verkamp, illustrated the unique qualities of our Cool Springs Education Center in Huntingburg, IN. We created custom stickers out of these detailed sketches to share with some of our guests as they visit us during tours throughout the year. 
Ashley's illustrations tell a story of nature, inspiration, and the history of OFS. This sprawling, mostly forested campus is named "Cool Springs" for the historical ground spring on the property. Ashley hoped to capture a few of the elements that make Southern Indiana, and Cool Springs, so unforgettable.
On any given day at Cool Springs, you can find the endangered Indiana bat nestling beneath the protective bark of our hickory trees or a red-bellied woodpecker acting as an ecosystem engineer, carving out future tree cavity nesting sites for a wide variety of wildlife. More information on each illustration is listed below.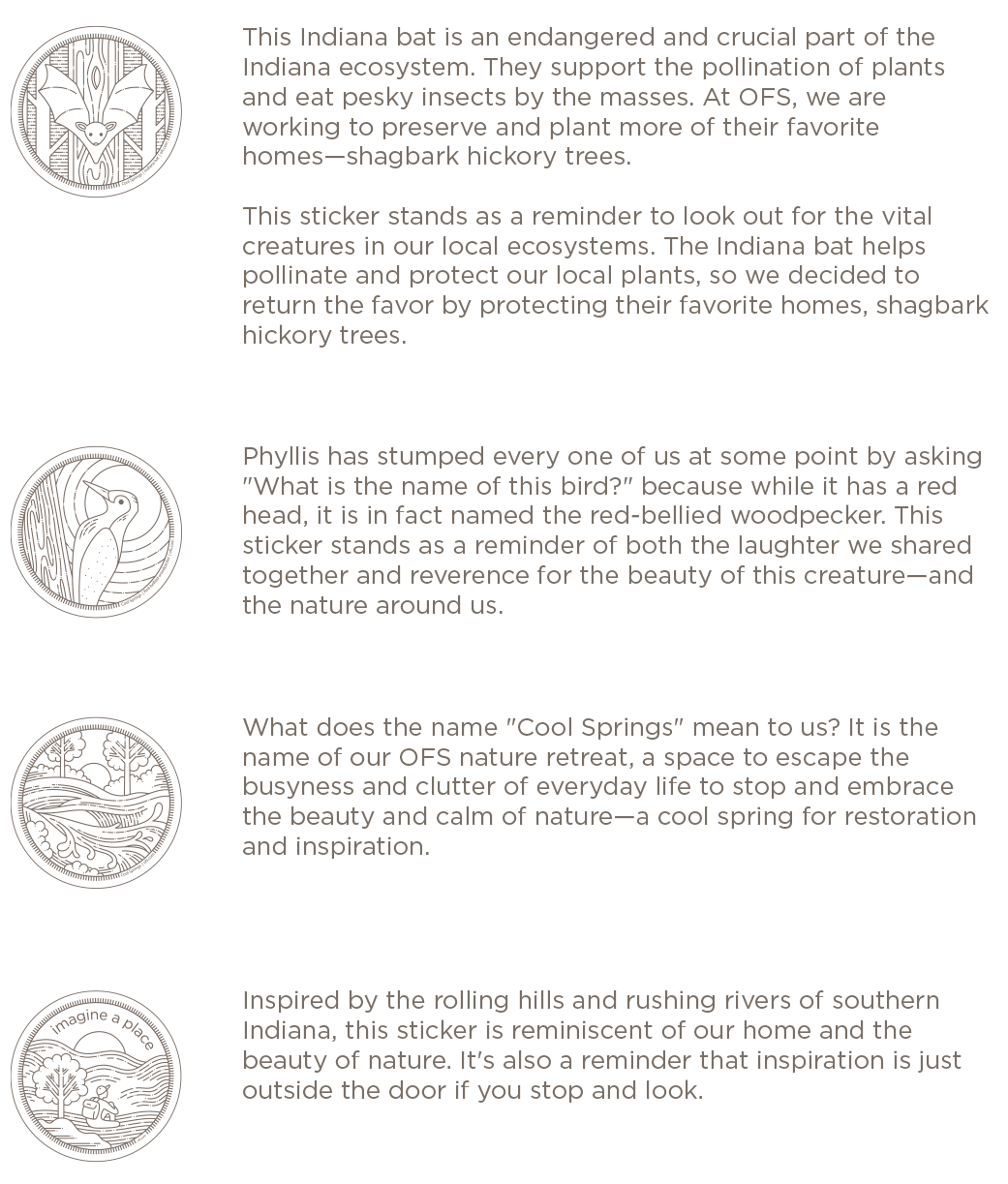 We wanted to share these beautiful illustrations as a free download. Use your coloring skills and share with us! 
HOW TO PRINT (AND SHARE):
1. Download your favorite design by clicking the button below
2. Open up the file, save and print the illustration(s) of your choice
3. Grab colored pencils, markers or paint and color
4. Post your photo on social and tag #imagineaplace so we can share
Ideas for use:
• Snap a photo and email to your child's teacher, a friend or a loved one
• Leave in someone's mailbox with a cheerful note
• Hang up on your refrigerator for all to enjoy

Meet the Illustrator: Ashley Verkamp grew up in Ferdinand, Indiana. She attended the School of Visual Arts and graduated from Columbus College of Art and Design with a BFA in illustration. Since then, Ashley's work has included roles as a freelance illustrator, designer, layout artist, senior art manager, and art director. Growing up in the rural countryside as a child had a profound impact on Ashley, and presently, much of her work centers around themes of nature and wildlife. This has also fueled an interest in sustainability and green building methods, which inspired her to build an energy-efficient straw-bale home.
Currently, Ashley works at OFS as a member of the Blue House Studio design team. Her illustration work can be viewed on her website at ashleyverkamp.myportfolio.com, and prints can be purchased online through Zazzle, Society6, and Posterlounge.